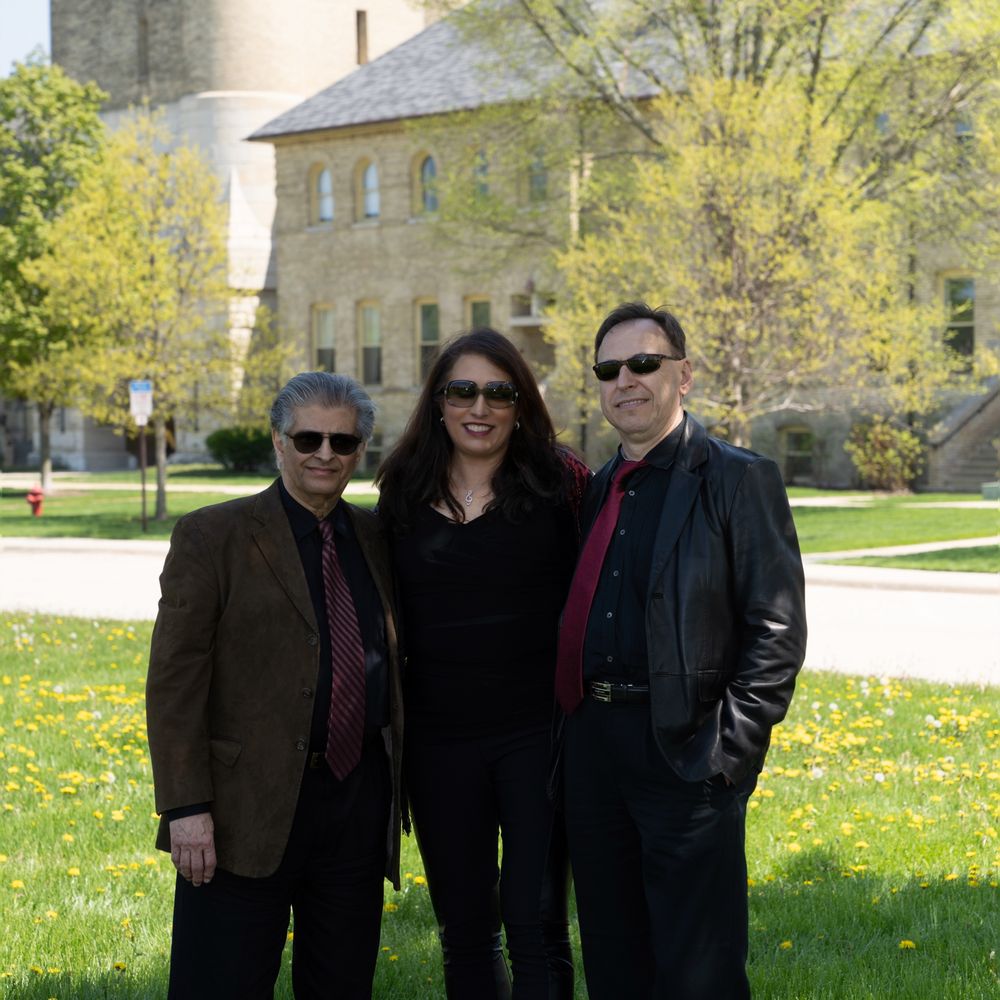 Sheridan Solisti Trio
Cyrus Forough, Susan Merdinger and Nazar Dzhuryn
SHERIDAN SOLISTI TRIO: Combining the talents of three internationally-acclaimed, award-winning soloists, the musicians of the Sheridan Solisti Trio hail from distinctly different parts of the world, yet own a single vision for musical artistry. Persian-American Violinist, Cyrus Forough, is noted for the "fiery intensity" and "poetic vision" of his playing, while Ukrainian-American cellist Nazar Dzhuryn's playing has been described as "captivating and inspiring". Steinway Artist Susan Merdinger's performances have been hailed as "atmospheric and ethereal" and "virtuosic and refined". Together, the trio represents the finest musical legacies of the 20th century, with Cyrus being a protege of David Oistrakh, Nazar a graduate of the Moscow Conservatory under Igor Gavrysh, and Susan a protege of several pianist "legends", including Claude Frank and Constance Keene.
Each musician arrived in Chicago at different times and for different reasons, yet the musicians eventually found themselves performing and socializing within the same musical circles. The trio actually began as two separate duos, Susan performing separately with both Cyrus and Nazar, many of the great works for violin and piano and cello and piano, as well as larger chamber music works with other distinguished musicians of the Chicago Symphony Orchestra and Lyric Opera of Chicago Orchestra. They have been featured artists on WFMT, the Art Institute of Chicago, Symphony Center, Logan Center for the Arts, Harris Theater for Music and Dance and more. All three musicians discovered the rich artistic and cultural fabric of Chicago is a wonderful incubator for making great music!
Sheridan Solisti is named after the US General Philip H. Sheridan, the prestigious North Shore Sheridan Road and historic Fort Sheridan on Lake Michigan where Ms. Merdinger's studio is located and the trio rehearses. The iconic water tower in the background of their webpage photos pays homage to this beacon of history and hope. Sheridan Soloisti is now poised to present the masterworks of traditional and contemporary trio repertoire that each of them has already performed with other distinguished musicians, including works by Alter, Beethoven, Brahms, Dvorak, Haydn, Levinson, Mendelsohn, Mozart, Piazzolla, Ravel, Schubert, Schumann, Tchaikovsky, and many more! As soloists with symphony orchestras around the world, they have performed in over 20 countries on four continents over 80 different solo concerti for their instruments in addition to Beethoven's Triple Concerto and Brahms' Double Concerto. Sheridan Solisti bring experience and integrity, passion, and virtuosity to each and every performance!
Bio